Jolly Time Books: Bullies Beware (Paperback)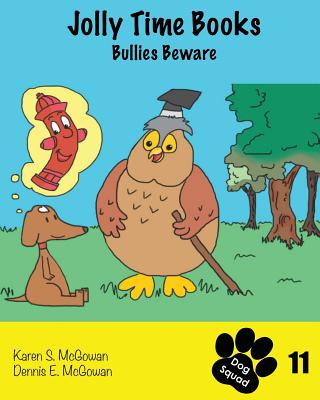 $10.99
Email or call for price.
Description
---
Kelly, the cute dachshund, was afraid she would miss the deadline for writing an article about bullying. She felt like an unmotivated writer stuck in a perpetual hamster wheel, going around and around-but getting nowhere fast.Things were even worse, because she was a bullying victim herself. To reduce her stress, she went on a walk and ran into Professor Hootie, a wise owl.Will Kelly have the courage to tell Professor Hootie that she is the victim of a bully? Will Professor Hootie give Kelly ideas on how to deal with bullies? And will Kelly miss the deadline for writing her article on bullying? You'll have to read the book to find out.Bullies Beware is another outstanding Jolly Time Books: Dog Squad presentation, loaded with edgy humor yet heartfelt wisdom. Jolly Time Books are full of individually hand-drawn vivid and colorful illustrations that will spark the imagination of any child.
About the Author
---
Karen S. McGowan has worked more than 20 years as a teacher and holds a Master of Education degree. She is a children's book author and leading advocate of education. Dennis E. McGowan has worked in foreign affairs and human resources for more than two decades. He holds a Master of Business Administration degree.