Skye Falling: A Novel (Paperback)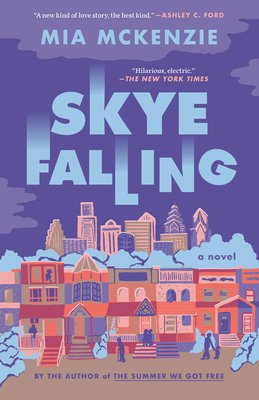 $17.00
Email or call for price.
Staff Reviews
---
I absolutely loved this debut novel by Mia McKenzie, featuring Skye, a Black queer 30-something woman returning to her hometown (Philly). Skye is an inconsiderate, commitment-phobe with an utterly relate-able knack for running away from her problems and re-writing history.  Some might say she's unlikeable but I'll admit I was easily disarmed by her scorching wit and endearing charm.  With a great cast of supporting characters, Skye Falling was a laugh out loud funny tale of a woman forced to hold herself accountable, rethink her "always on the go" lifestyle and maybe fall in love in the process.
— Zinna
Description
---
GOOD MORNING AMERICA BUZZ PICK • A woman who's used to going solo discovers that there's one relationship she can't run away from in this "hilarious, electric" (The New York Times) novel, a probing examination of the complexities of family, queerness, race, and community

LAMBDA LITERARY AWARD WINNER• ONE OF THE BEST BOOKS OF THE YEAR: The Boston Globe, Autostraddle, Shondaland • "A new kind of love story, the best kind."—Ashley C. Ford, New York Times bestselling author of Somebody's Daughter

When she was twenty-six and broke, Skye didn't think twice before selling her eggs and happily pocketing the cash. Now approaching forty, Skye still moves through life entirely—and unrepentantly—on her own terms, living out of a suitcase and avoiding all manner of serious relationships. Maybe her junior high classmates weren't wrong when they voted her "Most Likely to Be Single" instead of "Most Ride-or-Die Homie," but at least she's always been free to do as she pleases.

Then a twelve-year-old girl tracks Skye down during one of her brief visits to her hometown of Philadelphia and informs Skye that she's "her egg." Skye's life is thrown into sharp relief and she decides that it might be time to actually try to have a meaningful relationship with another human being. Spoiler alert: It's not easy.

Things get even more complicated when Skye realizes that the woman she tried and failed to pick up the other day is the girl's aunt, and now it's awkward. All the while, her brother is trying to get in touch, her mother is being bewilderingly kind, and the West Philly pool halls and hoagie shops of her youth have been replaced by hipster cafés.

With its endearingly prickly narrator and a cast of characters willing to both challenge her and catch her when she falls, this novel is a clever, moving portrait of a woman and the relationships she thought she could live without.
About the Author
---
Mia McKenzie is the award-winning author of The Summer We Got Free and the creator of Black Girl Dangerous Media, an independent media and education project that centers queer Black women and girls. She lives with her parenting partner and two children in the Happy Valley of Western Massachusetts.
Praise For…
---
"Maybe it's because we're coming out of a year of isolation, or maybe it's because I've spent far too much time extremely plugged into social media, or maybe it's simply because I'm a Gemini, but sometimes, I wake up and crave chaos. I (truly, emphatically, unconditionally) don't want to be a part of the drama—but I do want to read about something so outrageous, so unexpected, so out of pocket, that I feel as if I am buzzing and I can't help texting my friends to gossip about it. How lucky I am, then, to have read Mia McKenzie's hilarious, electric novel, Skye Falling."—The New York Times
 
"This endearing and hilarious book is an ode to chosen family, soft Philly pretzels, and the people who make us feel at home."—BuzzFeed
 
"Hilarious, engaging and delightfully ribald."—St. Louis Post-Dispatch

"One of the truest depictions of modern queer life I've read in a while."—BookRiot
 
"A disenchanted protagonist for the ages."—Bitch Media

"Razor-sharp and outrageously funny, Skye Falling is an absolute winner. Mia McKenzie has created a one-in-a-million heroine in Skye Ellison and has crafted an entirely fresh story about love that charms with curmudgeonly wit and a tender heart."—Taylor Jenkins Reid, author of Malibu Rising

"I can't remember the last time a book made me laugh, cry, and reflect as thoroughly as Skye Falling. Mia McKenzie has written the kind of story I've been searching for, and maybe even gave up on as a possibility, and now, suddenly, it's here. This is a narrative about family, responsibility, and home. It's a new kind of love story, the best kind, and you'll be turning the pages just as quickly as I did."—Ashley C. Ford, author of Somebody's Daughter

"Mia McKenzie is writer who can move from heartbreak to laughter in a single paragraph, while brilliantly reinventing queer family and friendship and the ways in which we get stuck and unstuck along the way. When I could manage to put this book down, I looked up from its pages to a world charged with new potential."—Torrey Peters, author of Detransition, Baby

"What if your most wounded, immature, rude, self-destructive, and antisocial habits were forgotten when a twelve-year-old walked into your life, saying 'Love me'? This page-turner had me laughing out loud at Skye's acid tongue and thoughts, and yet without abandoning the barbs it unearths—and earns—something like grace. Full of vivid women, each complex and funny as hell, Skye Falling reads like a hot summer jam, and it adds up to a lively, full meal."—Quiara Alegría Hudes, author of My Broken Language