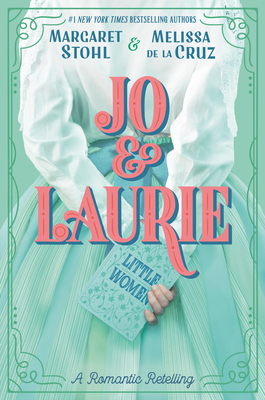 $11.99

Usually Ships in 1-5 Days
Description
---
Bestselling authors Margaret Stohl and Melissa de la Cruz bring us a romantic retelling of Little Women starring Jo March and her best friend, the boy next door, Theodore "Laurie" Laurence—now available in paperback!

1869, Concord, Massachusetts: After the publication of her first novel, Jo March is shocked to discover her book of scribbles has become a bestseller, and her publisher and fans demand a sequel. While pressured into coming up with a story, she goes to New York with her dear friend Laurie for a week of inspiration—museums, operas, and even a once-in-a-lifetime reading by Charles Dickens himself!

But Laurie has romance on his mind, and despite her growing feelings, Jo's desire to remain independent leads her to turn down his heartfelt marriage proposal and sends the poor boy off to college heartbroken. When Laurie returns to Concord with a sophisticated new girlfriend, will Jo finally communicate her true heart's desire or lose the love of her life forever?
About the Author
---
Margaret Stohl is a the #1 New York Times bestselling author of fifteen novels and graphic novels, including the Beautiful Creatures series, the Black Widow: Forever Red duology, the ongoing Mighty Captain Marvel comic, and the Life of Captain Marvel miniseries. Learn more at mstohl.com and follow Margie on Twitter @mstohl and on Instagram @margaret_stohl.

*****

Melissa de la Cruz is the #1 New York Times, USA Today, Wall Street Journal, Los Angeles Times, and Publishers Weekly internationally bestselling author of many critically acclaimed books, including the Alex & Eliza trilogy, Disney's Descendants novels, the Blue Bloods series, and the Summer on East End series. Visit Mel at melissa-delacruz.com and follow her on Twitter @MelissadelaCruz and on Instagram @authormelissadelacruz.
Praise For…
---
"Little Women fans have been bemoaning Jo and Laurie's fate since the book was first published in 1868. Now Margaret Stohl and Melissa de la Cruz have teamed up to give these two the romantic tale they have always deserved." —PopSugar
 
"[Stohl and de la Cruz] have joined forces to give Little Women shippers everywhere what they've wanted for years: A happy ending for Jo and Laurie." —Culturess
 
"Whether or not you believe that Jo should have remained single at the end of Little Women, rather than marry Friedrich Bhaer, if you're a dedicated shipper of Jo March and Theodore Laurence, you're going to love Stohl and de la Cruz's novel." —Bustle

"A richly imagined look at grief, creativity, and authorship that infuses the beloved characters with new life." --Publishers Weekly

"Clever, satisfying and well-researched . . . Romantics will swoon." —Shelf Awareness

"Stohl and de la Cruz capture the spirit of Alcott, a notable feat . . . The quick pace and inspired plot are gripping and emotional, with twists that will keep the audience engaged. Fans of classics, romance, and feminism will be glad to see that Jo March has not lost her feisty essence. New readers and admirers of the original will cheer." —School Library Journal

"Stir(s) feelings of nostalgia." —Kirkus Reviews