Plus Size Considered; Positions for Having Sex a New Way Everyday (Paperback)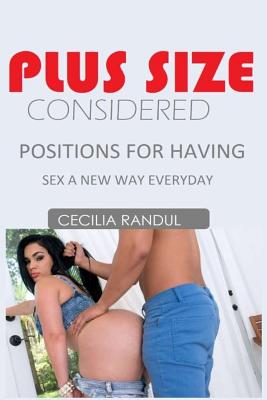 $9.99
Email or call for price.
Description
---
People of all shapes and sizes can engage in sexual activity and sexual intercourse. However, these differences in body types mean that one person's favorite sex positions could be less pleasurable or even very uncomfortable for someone else. It is important to find comfortable and pleasurable positions that suit your body type and your abilities. Many plus size individuals that engage in sexual activities may find themselves in positions that are both unfulfilling and uncomfortable. These positions are safe, enjoyable while avoiding common problems caused by weight, size, or flexibility. Give them a try Everyone should and indeed must enjoy their sex life no matter their body type. Often most positions recommended focus on body twisting and therefore mostly difficult for most of us. Sex positions covered in this book all focus on the simplicity of it all but bringing out the best pleasure and sexual adventure associated with varying sex positions. From plus size people to the most slim this sex position book is ideal for all. No complexities, just a smooth run from one sex position to the next. You can regain exciting passion by redefining excitement, and 'discovering each other. As a rule, people generally underestimate the role of sexual intimacy in a relationship. We take sexual function and pleasure for granted until it breaks down, and then it causes great distress. Often it's only at this point that couples-or singles-address sexual concerns. By maintaining a varied and spicy sex life across the life span of a relationship, people can prevent many sexual problems. So call your partner, look at the pictures together, have a laugh, and then go to bed and enjoy trying out these new sexual positions and exciting new techniques. Remember sex should be enjoyable, and above all FUN.
About the Author
---
Cecilia Randul so eloquently describes relationships in the modern world. The advice she gives is relevant, easily implemented in any relationship and could be used throughout the year. Today, she applies her knowledge to investigate eye-opening, life-changing truths about sexual relationships. Her groundbreaking books and blog articles are widely read by thousands worldwide.