A Beginning and an End (Paperback)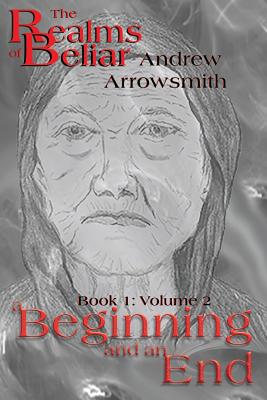 $14.99

Usually Ships in 1-5 Days
Description
---
This is the second book of a sequence - sometimes humorous, sometimes very dark - describing the events which would define a world for a millennium or more, seen through the eyes of some of the people around whom the whole thing turned.
We follow a small group of inexperienced - but intelligent - people as they strive to stay alive and defend their native land, while making sense of the strange circumstances they find themselves in. They become all too aware that there is far more than their survival at stake, and their vast nation is on the edge of tragedy.
In this book we further develop the narrative threads of what, over the series, becomes a vast tapestry whose common features include politics simple and complex, magic, warfare, highly problematical love affairs, interactions of people with wildly differing moral codes and beliefs, and examinations of the way people struggle to deal with some odd and conflicting loyalties.
Some of the people we meet along the way include
A man who has been dead for millennia, but nonetheless is engaged in a passionate love affair with a goddess nearly all of whose followers have been killed by her own brother to protect her

A hugely talented and brilliant nature priest who needs his ego stroking constantly to be able to function at all

a seven-foot warrior, notorious as a hand-to-hand blood spiller, who is an academic by inclination and contrives to be loyal simultaneously to senior figures on each side of the conflict.

A knight who, despite having saved the cause she serves twice by her own selfless courage believes that she is a traitor to all she cares about.

An even more effective knight who nevertheless achieves more for her cause after her defeat and enslavement than ever she did on the field of battle - where she achieved a lot.

A nasty young man who rescues a slave from an appalling fate with an act of selfless courage - which he admittedly subsequently turns massively to his advantage...

A man who fights for a dark cause, but is driven by a firm morality and set of principles...

Plus gods, thieves, company executives (who are also thieves by the nature of their religion), politicians, priests of many kinds, mages of even more varieties, traitors, accountants, fanatical loyalists, and many, many more.
The Realms of Beliar series also explores what happens in a society ("The Empire") where there are no sexual politics because there is genuinely no sexual discrimination of any kind and never has been; where - in a world of trolls, elves, orcs, etc - if you suggested one human was a different race from another because of essentially cosmetic differences such as skin shade, you would be laughed at incredulously; where the aristocrats who rule do so for the benefit of the people because otherwise various benevolent deities - very, very real - would remove them from power - and probably life.
Of course the Empire isn't the only nation, and other cultures and polities have a range of different approaches to all these things. The interaction between all these viewpoints is really the driving force of the whole course of events, though as the story develops it becomes clear that each story arc is itself part of another, deeper sequence.
The whole narrative is embellished throughout by many photographic images, fine portraits, maps and line drawings