Las leyes de la naturaleza humana (Paperback)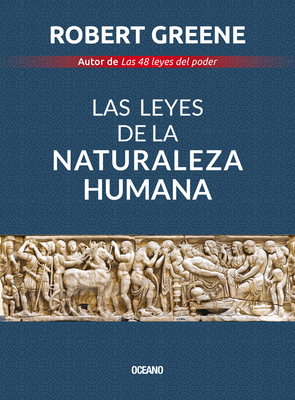 $24.00

Usually Ships in 1-5 Days
Description
---
Como animales sociales, nuestras vidas dependen de las relaciones que forjamos. Por eso no bastan nuestro talento, cono-cimiento y formación: saber por qué la gente hace lo que hace es la herramienta más importante que podemos dominar.

As social creatures, humans depend on their relationships. That's why talent, knowledge, and training aren't enough; understanding why people do what they do is the most important skill to master.
About the Author
---
Robert Greene is the author of the New York Times bestsellers The 48 Laws of Power, The Art of Seduction, and The 50th Law. In addition to having a strong following within the business world and a deep following in Washington, DC, Greene's books are hailed by everyone from war historians to the biggest musicians in the industry. Greene attended U.C. Berkeley and the University of Wisconsin at Madison, where he received a degree in classical studies. He currently lives in Los Angeles.
Praise For…
---
"The writing is engaging and the ideas are fascinating . . . we could all use the insights Greene provides . . .  a hopeful book that advocates freedom and creativity." —Quartz, on the English language edition

"The lessons have profound implications. There's a chapter on reading body language that is absolutely profound; each "law" has stunningly vivid descriptions of an historical figure." —Inc., on the English language edition

"The Laws of Human Nature provides some first-rate comprehensive and in-depth information about how to deal with our fellow human beings effectively. Greene's intense curiosity about the inner workings of humanity is contagious, as he invites us to join him as fellow sleuths on his investigation of why people, including ourselves, do what we do. He rightly (and frequently) reminds us that in order to understand others, we must first and foremost understand what makes ourselves tick." —New York Journal of Books, on the English language edition

"In this detailed and expansive guide, Greene (Mastery) seeks to … transform the reader into a 'calmer and more strategic observer,' immune to 'emotional drama.' Those are lofty promises, but even skeptics will become believers after diving into Greene's well-organized text. Overcoming the "law of irrationality," for instance, leads to the ability to 'open your mind to what is really happening, as opposed to what you are feeling.' Greene's thoughtful examination of self and society will, for the committed reader, deliver a refreshing and revitalizing perspective." —Publishers Weekly, on the English language edition

"Machiavelli has a new rival. And Sun Tzu had better watch his back. Greene . . . has put together a checklist of ambitious behavior. Just reading the table of contents is enough to stir a little corner-office lust." —New York magazine on The 48 Laws of Power

"Beguiling . . . literate . . . fascinating. A wry primer for people who desperately want to be on top."—People on The 48 Laws of Power