La voz de los muertos / Speaker for the Dead (SAGA DE ENDER / ENDER QUINTET #2) (Paperback)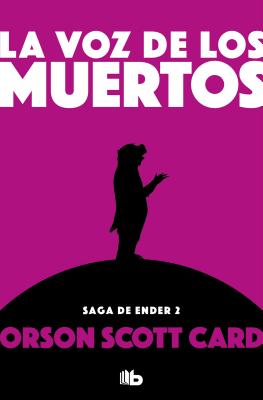 $14.95
Email or call for price.
Other Books in Series
This is book number 2 in the SAGA DE ENDER / ENDER QUINTET series.
Description
---
La aclamada segunda parte de El juego de Ender, ganadora de los premios Nebula 1986, Hugo 1987 y Locus 1987.
Una de las mejores sagas de ciencia ficción jamás publicadas. Después del genocidio de los Insectores, Ender Wiggin desapareció y en su lugar surgió una voz poderosa: la nueva religión de los Portavoces de los muertos, que sirven como sacerdotes a los que no creen en ningún Dios y, sin embargo, creen en los valores de los seres humanos.
Han pasado tres mil años desde los hechos de El juego de Ender, pero los efectos del viaje relativista permiten la presencia de un Ender de treinta y cinco años, que será el elemento central en el segundo contacto de los seres humanos con otra raza galáctica. Esta especie, al igual que los Inspectores, resulta completamente extraña y, en sus primeros acercamientos a los seres humanos, han causado muertes incomprensibles.
Solo Ender, el xenocida, tendrá la valentía de afrontar la verdad.

ENGLISH DESCRIPTION

The acclaimed second part of Ender's Game, winner of the 1986 Nebula Prize, 1987 Hugo Prize, and 1987 Locus Prize.
 
One of the best science fiction sagas ever published. After the Bugger genocide, Ender Wiggin disappeared and in his place a powerful voice arose: the new religion of the Speakers for the Dead, who serve as priests for those who don't believe in any God but nevertheless believe in the values of human beings.
 
Three thousand years have passed since the events in Ender's Game, but the effects of the relativist journey allow for the presence of a 35-year-old Ender, who is the central element in the second contact between human beings and another alien race. This species, like the Buggers, is completely strange and, in their first encounters with humans, have caused incomprehensible deaths.
 
Only Ender, the Xenocide, has the courage to face the truth.
 
About the Author
---
Orson Scott Card
 obtuvo el premio Hugo 1986 y el Nebula 1985 con 
El juego de Ender,
 cuya continuación, 
La voz de los muertos
, consiguió de nuevo dichos premios, siendo la primera vez en toda la historia de la ciencia ficción que un autor los obtenía dos años consecutivos.
La serie continuó con 
Ender el xenocida
, 
Hijos de la mente
, 
Guerra de regalos
 y 
Ender en el exilio
. En 1999 apareció un nuevo título, 
La sombra de Ender
, seguido por 
La sombra de Egemón
, 
Marionetas de la sombra
, 
La sombra del gigante
 y 
Sombras en fuga
.
También han sido un gran éxito su «Saga de Alvin Maker [El Hacedor]» , iniciada con El séptimo hijo, y la llamada «Saga del Retorno», iniciada con La memoria de la tierra.