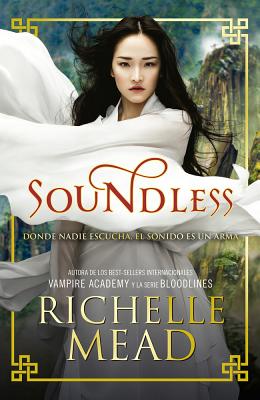 $17.95
Email or call for price.
Description
---
For as long as Fei can remember, there has been no sound in her village. The rocky terrain and frequent avalanches prevent residents from abandoning the town, so Fei and her people are at the mercy of a zip line that carries food up the treacherous cliffs from Beiguo, a mysterious faraway kingdom. When villagers begin to lose their sight, deliveries from the zipline shrink and many go hungry. Fei's home, the people she loves, and her entire existence is plunged into crisis, under threat of darkness and starvation. But soon Fei is awoken in the night by a searing noise, and sound becomes her weapon.

Desde que Fei puede recordar, en su pueblo nadie puede oír. El terreno rocoso y los aludes frecuentes hacen que sea imposible abandonar el pueblo, por lo que Fei y su gente están a merced de una línea con la que se izan los alimentos por los traicioneros acantilados desde Beiguo, un reino lejano y misterioso. Cuando los habitantes del pueblo empiezan a perder la vista, disminuye la cantidad de comida que llega por la línea. Muchos pasan hambre. Fei y todos sus seres queridos caen en una crisis, sin nada que esperar más que oscuridad e inanición. UNA CHICA OYE UN LLAMADO A LA ACCIÓN. . . Hasta que una noche, un sonido desgarrador despierta a Fei. El oído se convierte en su arma. Emprende la tarea de descubrir qué le ocurrió y de luchar contra los peligros que amenazan a su pueblo. En su búsqueda la acompaña un apuesto minero de espíritu revolucionario, que trae consigo nuevos riesgos y la posibilidad de un romance. Juntos se embarcan en un viaje majestuoso desde la cima de la escarpada montaña donde se encuentra su pueblo hasta el valle de Beiguo, donde una verdad inesperada les cambiará la vida para siempre…
About the Author
---
Richelle Mead is a New York Times bestselling author. She is also the author of Vampire Academy, Frost Bite, Bloodlines, Shadow Kiss, Blood Promise, and many others. 
Praise For…
---
"Like her heroine, Mead paints with a delicate brush, creating a fable like story that melds folktale, sacrifice, romance, and the stark realization of humanity's capacity to exploit others for profit."—Publishers Weekly, on the English-language edition