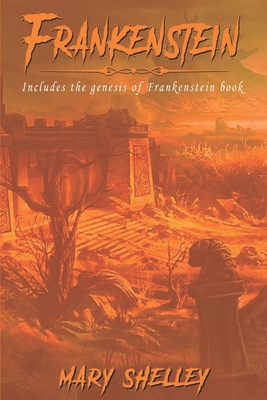 $10.99
Email or call for price.
Description
---
Frankenstein is an 1818 Gothic novel written by Mary Shelley from England. It is the tale of eccentric scientist, Victor Frankenstein and the monstrous creature he created. The book is a novel about the destructive potential in human ingenuity and the desperate search for love and attachment.
The tale of Frankenstein, or the Modern Prometheus originated from a young woman's mind in the bleak summer of 1816. However, her inspiration may have stemmed from an alchemist, dream, or contest to pass the time on vacation.
Mary Shelley was surrounded by literary geniuses and often enjoyed weaving her own tales. This young woman had experienced her fair share of heartache and destruction over her brief time. In her twenty years, she had experienced the loss of her mother and infant child. She lost her mother before she even knew her-at just 11 days old. Her child died after being born two months premature. This heartache was enough to cause anyone to consider how to reanimate humans after death.
Her monster, however, was not the embodiment of a single human, so it is often overlooked that she would even tie this to her life. This version of the chilling tale contains new insight into this horrific tale's inspiration and beginnings. Shelley would weave a tale on those nights that would be the source of both controversy and inspiration for far more tales than Mary Wollstonecraft Shelley would ever imagine. Her free spirit and deep imagination produced unrivaled horror that would remain legendary for more than two centuries.
The book contains short story about genesis of Frankenstein book.