Never Skip Dessert! (Hardcover)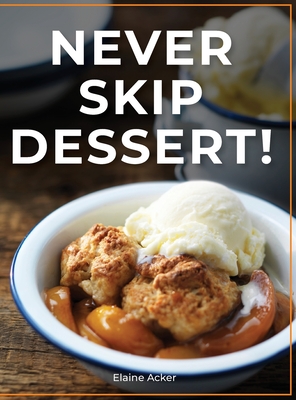 $19.95

Usually Ships in 1-5 Days
Description
---
Whether you're a professional chef or the keeper of treasured family recipes, chances are, your favorite memories were made in the kitchen, just like mine.
I wrote this book because in our house, dessert was the most important meal of the day. Or something like that. Mama always made sure Daddy had a fresh dessert waiting after every evening meal. I wasn't big on sweets, but if it was something she thought I might eventually want (like a sliver of sweet potato pie), she'd hide a little piece in the back of the ice box. Because in our house, desserts vanished like ghosts.
Writing this book gave me a place to focus on fun memories & share favorite recipes with my cousins. And it was the best way I could think of to honor Daddy's food "point of view," which clearly was: Never Skip Dessert.
Maybe you have an idea for a cookbook, too?
I launched The Cookbook Creative because I think cookbooks are a special way to share food & stories. Whether you're creating a one-of-a-kind gift, capturing family memories, or building your food business, I want to make it easy for you to create a cookbook you'll be proud of.